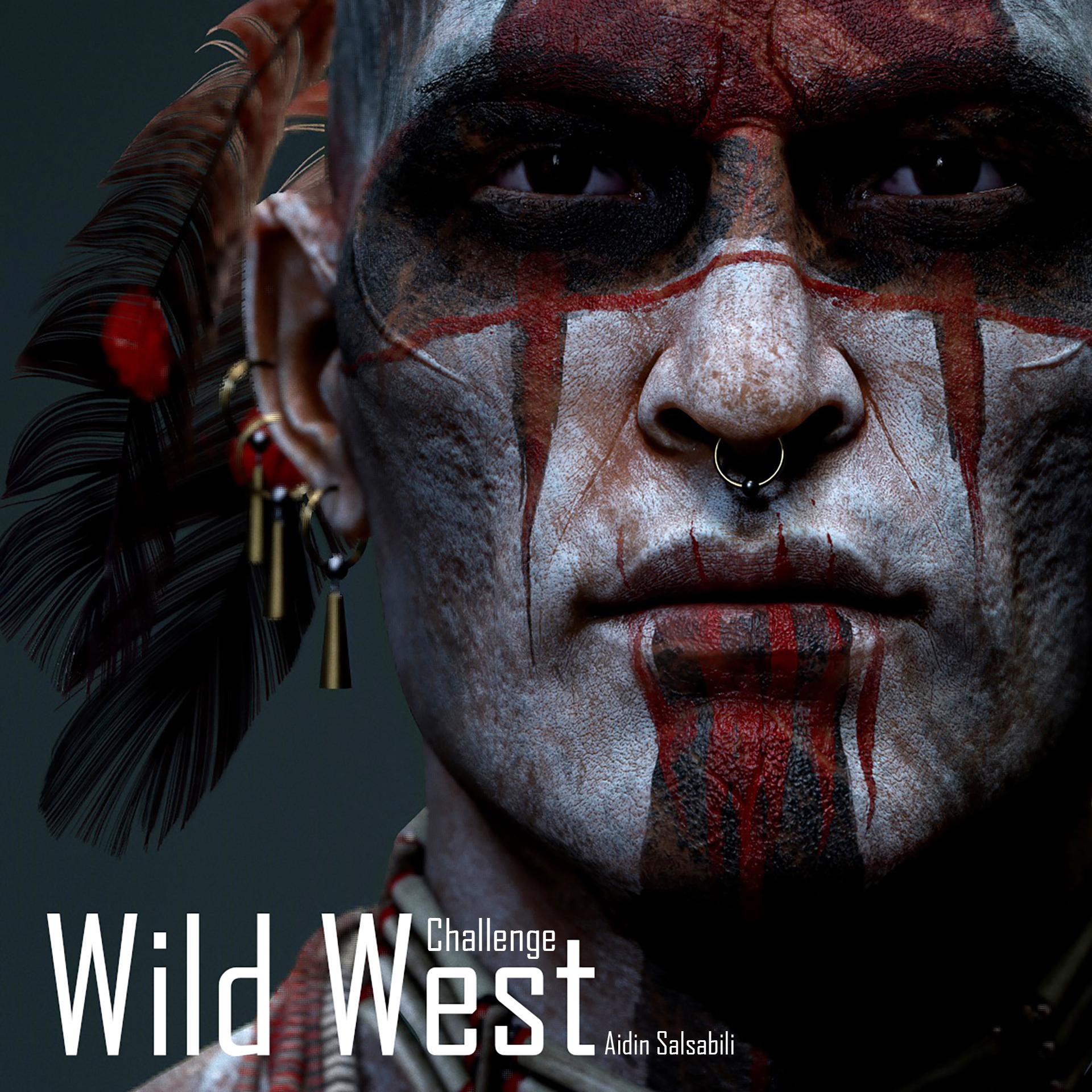 Wild West Challenge: Game Character Winners Interview
For the Game Character portion of the Wild West Challenge, participants were given 8 weeks to create one fully rendered character from the Old West. Like with previous ArtStation Community Challenges, competitors in Phase 2 had the option of using one of the concepts from the first phase or creating an entirely new concept of their own.
The part of interview:
Aidin Salsabili, share their experience and process for their winning entries.
 Tell us about your concept for your piece.
Aidin: From the moment I saw the challenge's title, I thought a Native American character would be a great choice. I wanted to have a realistic character with a historically accurate look that was also ready for today's games. I saw lots of great concepts in the first phase of the challenge but in the end, I decided to design my own character. I spent a lot of time researching the Native American tribes and culture and in the end, I chose a warrior from the "Sauk" tribe. The Sauk warriors looked sharp, fast, and strong which was exactly what I needed for my character. He could easily be the main character in an action adventure game!
Tell us about the strategy and process for creating your piece.
Aidin: I have a regular workflow for my character creation but sometimes I change the priorities and adjust timing based on the project. After choosing the subject, I always start by research. For this challenge, I saw and read about different tribes. You can find important information about their fighting techniques, weapons, tools and etc. So I made a list of all things that need to be done. With that list, I can go after detail reference photos and plan the design and implementation. These were my steps:
Sculpting block mesh – face and body(ZBrush)
Checking scale-size, form, anatomy
Skin details (Mari or ZBrush)
The base of the clothes (Marvelous Designer)
Making the high poly of the assets, testing size (Maya or ZBrush)
Add more details on high poly clothes and assets ( ZBrush)
Creating low poly (Maya, Topo-Gun)
Unwrap (unfold)
Baking (Marmoset Toolbag)
Texturing – Preparing texture pack (Substance Painter, Photoshop)
Adjusting shaders, lightings, post product setting and rendering (Marmoset Toolbag)
What was the most challenging part?
Aidin: I enjoyed every second of this project but there are always challenges. Painting his face and body was challenging because seven different layers with different roughness needed to match together.
What other submissions stood out to you?
Aidin: I think Jared Chavez was great. He worked on a concept that I really loved. What he has done is magnificent. It was really interesting that the top three entries had Native American designs!
What were your learning takeaways from this challenge?
Aidin: Participating in a challenge with this many great artists was truly a great opportunity for me. I learned a lot about my strengtsh and weaknesses throughout the challenge. Having great artists comment about your art is a blessing. I made a lot of friends who I enjoyed talking to and inspired by their g